Jay D. Tarnow, M.D. and Amber Pastusek, M.D. prescribe Vayarin: A prescription medical food for the clinical dietary management of certain lipid imbalances associated with ADHD in children
The association between fatty acids (a kind of lipid) and ADHD was first investigated in the early 1980s. At the time, numerous physicians noticed that hyperactive children presented with thirst, which can be a symptom of fatty acid deficiency. Additionally, hyperactivity was also associated with eczema, asthma, or allergies that were reported to be alleviated by fatty acid supplementation. In 1995, Stevens, et al. was among numerous scientists at that time who published evidence that children with ADHD were deficient in two specific fatty acids compared to their normal counterparts: EPA (Eicosapentaenoic Acid) and DHA (Docosahexaenoic Acid), the long chain polyunsaturated (LC-PUFA) Omega-3 fatty acids.
Reduced levels of Omega-3 are associated with ADHD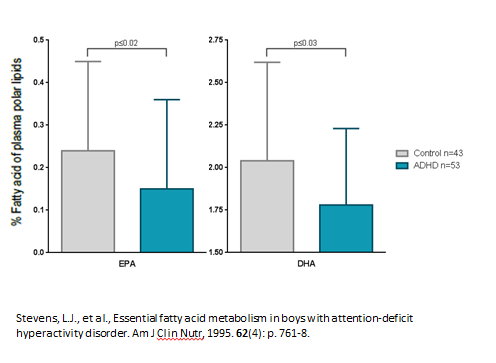 Although it was suggested that low levels of this kind of lipids may play a role in ADHD, studies results following supplementation with fatty acids, in the form of fish oil, have been inconclusive.
Vayarin was specifically developed to manage efficiently the lipid imbalance associated with ADHD. Vayarin is a prescription medical food that consists of Lipirinen, a unique composition of PS enriched with EPA, for the clinical dietary management of ADHD in children.
Key Study Findings
Vayarin efficacy and safety were evaluated in a randomized, double-blind, placebo-controlled study of 15 weeks followed by an open label extension of additional 15 weeks. Diagnosis and evaluation were conducted using validated questionnaires including teacher evaluations, parent evaluations, and quality of life questionnaires. Vayarin was found to significantly reduce several ADHD symptoms and improve quality of life, especially in children with a more pronounced hyperactive-impulsive behavior, as well as mood and behavior dysregulation. Additionally, Vayarin was shown to be well tolerated, and there were no major study-related side effects.
Vayarin significantly reduced several ADHD symptoms at home and at school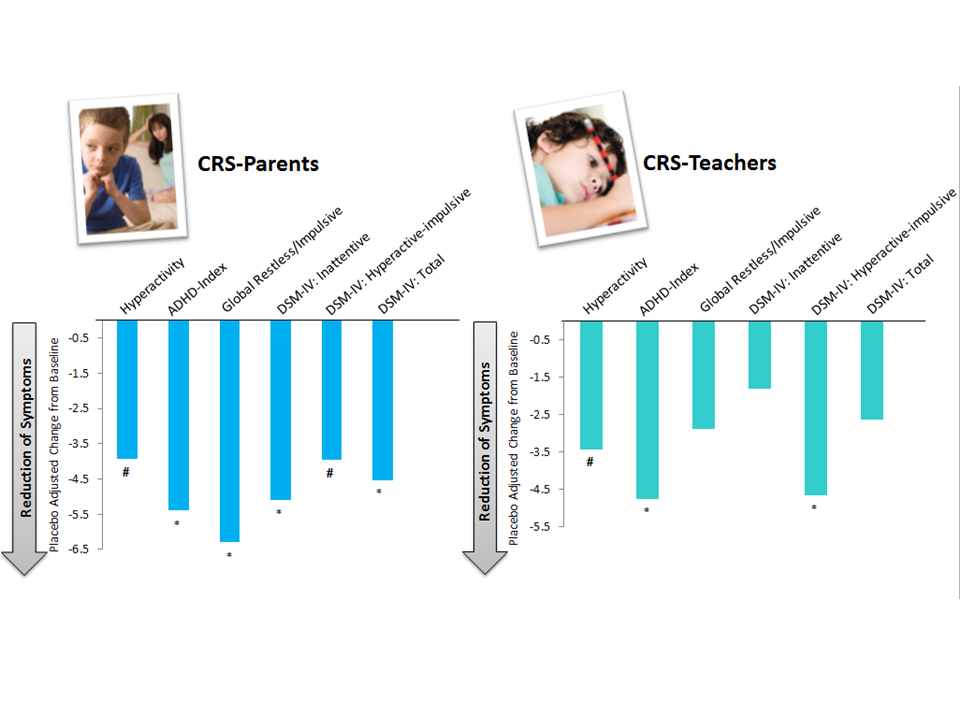 Conners' parent and teacher rating scales (CRS-P and CRS-T, respectively) double-blind phase results within the subgroup#: Comparison of placebo adjusted mean change from baseline. # p < 0.1, * p < 0.05 based on analysis of covariance controlled for gender and age.
# Children were included in this subgroup if they had an abnormal baseline score (>62) in at least two out of the following CRS-T subscales: Oppositional, hyperactivity, ADHD-index, or Global: Emotional lability.
Vayarin improved quality of life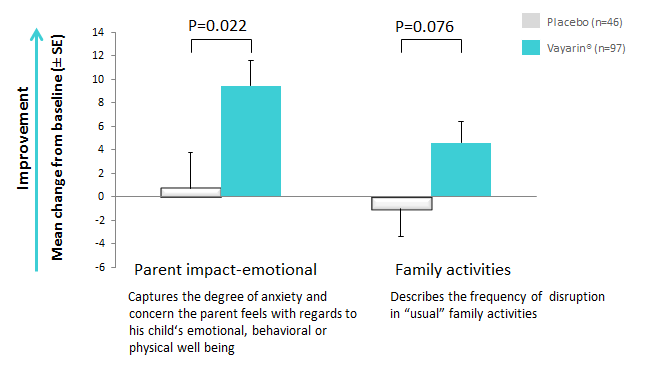 Child health questionnaire (CHQ), double-blind phase results: Comparison of mean change from baseline between the two study arms. P values are based on Student's t-test.
References
(1) Manor,I., et al., The effect of phosphatidylserine containing Omega3 fatty-acids on attention-deficit hyperactivity disorder symptoms in children: a double-blind placebo-controlled trial, followed by an open-label extension. Eur Psychiatry. 2012;27(5):335-42.
(1) Manor, I., et al., Safety of phosphatidylserine containing omega3 fatty-acids in ADHD children: A double-blind placebo-controlled trial followed by an open-label extension. Eur Psychiatry. 2013. doi: 10.1016 [Epub ahead of print]