Lesley Solomon, MA, LPC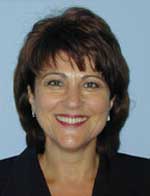 Licensed Professional Counselor & Biofeedback Specialist
Lesley Solomon, M.A. , L.P.C., received her Bachelor of Science and Master of Arts in Psychology degree from Houston Baptist University in Houston, Texas.
Currently, Mrs. Solomon works as a Psychotherapist and Biofeedback specialist at the Tarnow Center for Self-ManagementSM . She provides cognitive-behavioral therapy for individuals and has training in a variety of behavioral and self-management techniques. Of special interest to Mrs. Solomon is the treatment of stress-related disorders such as headaches, irritable bowel syndrome, and anxiety-related disorders. Her interest is in expanding public and professional awareness of the beneficial effects of self-regulation and mind/body integration.
She works with children, adolescents, young adults and adults.
She has been with the Center since August 1998.
Membership organizations include:
American Counseling Association
Association for Applied Psychophysiology and Biofeedback
Biofeedback Society of Texas
American Society of Clinical Hypnosis
Articles: