College Application Assistance
Laboratory for Launching
by Lynn Ayres, M.Ed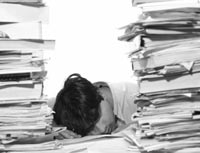 Going to college represents a complex and stressful transitional period for parents and their child. Piaget describes transitions as a period of disequilibrium that causes a lack of stability while moving from one stage to another.

The launching period is especially stressful for families whose child has ADHD, learning disabilities, Aspergers, anxiety, obsessive-compulsive disorders, Tourette's syndrome, a bipolar disorder, and/or other self-management difficulties. Both the parents and the child have worries, concerns and questions about finding the right college with the right support.

It's no wonder with so many steps, so many decisions, and so much work, that the stress in the family skyrockets. The lack of time management, poor organization, procrastination, and poor follow-through are problems that the children with special concerns often have. Many have a shaky history of meeting many deadlines for years. The parents are often beside themselves over the application process while the child is doing nothing. The more the parents' 'badger', the more the child reacts. This often creates a very conflictual home environment.
The Tarnow Center has a very unique and comprehensive Application Assistance Program which helps students move successfully through the process, while reducing the parent's burden and stress.
The Tarnow Center Application Assistance Program encompasses all tasks involved in applying to a college, while addressing each individual student's needs. The program helps find a list of prospective schools that are a good match academically, emotionally, and financially for the student. The program has an organized system for researching colleges, organizing information and gathering data on each prospective college. Finding colleges that provide the right level of support (accommodations, learning support, tutoring, counseling, medical assistance and/or living assistance) is part of finding a good match.
In addition to establishing time lines, the program assists in developing resumes, application completion, obtaining recommendations, and essay writing. The program also helps to organize campus visits and interviews.
During this application process, the student learns self-management skills such as responsibility, time-management, organization skills, and goal setting, which will help him/her be more successful in college. The student is provided with the support and guidance needed, while being given ownership of the process. The goal of Tarnow's Application Assistance Program is to help the student attend a school that matches his/her passions and gifts, and supports individual needs allowing him/her to grow and be successful.